In the News
Local Paso Robles centenarian celebrates her 105th birthday
Paso Robles Daily News Staff on 12/20/2017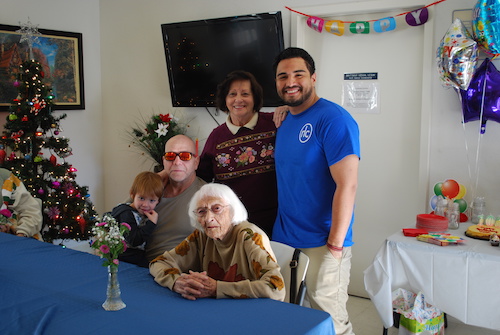 Originally posted on Paso Robles Daily News
Vera Maddan, a resident of Peoples' Self-Help Housing (PSHH) at Creekside Gardens, celebrated her 105th birthday with family and friends on Dec. 18. Maddan and her guests had cheesecake, which is her favorite type of cake, along with pizza. She opened presents of fuzzy socks and tea packets from other residents and her family, of which her young great-grandson was present. The party was held in the community room of Creekside Gardens, where the room was packed with well-wishers.
"This is a testimony to why housing is important… [it's an] important factor into healthy living and longevity," said John Fowler, the president and CEO of PSHH who came from the San Luis Obispo office to celebrate Maddan.
Maddan became a senior resident at Creekside Gardens in 2010 after moving from Alhambra, CA. She spent her childhood on a farm, and continued to work until her early 90s.