In the News
IT Grant Gives Peoples' Self-Help Housing Residents Chance to Connect
Posted on 10/27/2017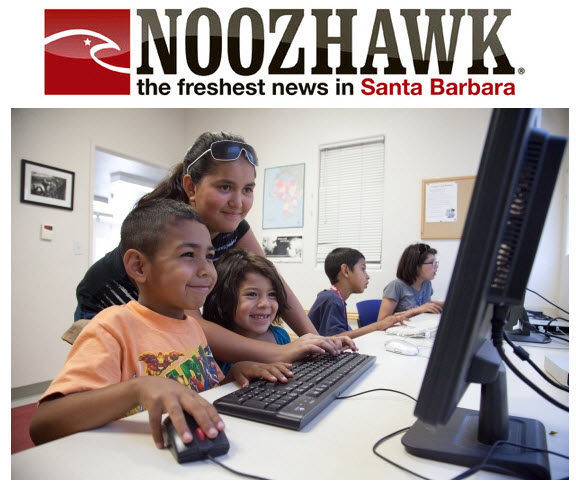 Students of all ages benefit from the ability to access study materials online. (Courtesy photo)
Public and private donations will pay for installing broadband infrastructure
Streaming videos and sharing photos might be the first things that come to mind when you think about having internet access, but the reality is, the internet impacts myriad facets of our daily lives.
Regardless of one's age, ethnicity, cultural background and/or economic status, most everyone benefits from the ability to get online.
Thanks to a state program called AB 1299, and the generosity of Peoples' Self-Help Housing (PSHH) supporters, all PSHH residents living in affordable-housing properties will soon have free internet access.
The combination of public and private donations will cover the costs of installing broadband infrastructure at over 40 PSHH properties.
"Having internet access at home is crucial for people of all ages and life stages," said John Fowler, PSHH president/CEO.
"Almost everything is done online, and being able to research information for class assignments, find study materials, apply jobs, or handle personal finances makes life a lot simpler," he said.
"It's easy to fall behind when you can't get the information you need quickly, and we want to make sure all of our residents have that opportunity and are in a position to succeed with the appropriate tools," Fowler said.
For students, most homework assignments and interaction with classmates and tutors is web-based. Having internet access is vital for them to be fully participatory.
College applications and scholarship opportunities can also be more efficiently pursued and monitored online.
For seniors, the internet can enable them to be in closer contact with family members — especially those who live far away — or with younger relatives who communicate primarily via social media.
Doctor appointments, prescription refills and insurance claims can also be handled more efficiently online.
For job seekers, the internet can enhance workforce readiness through online trainings and message boards, and job applications are often easiest and sometimes required to be web-based.
For more about Peoples' Self-Help Housing, visit www.pshhc.org, email communications@pshhc.org or call 781-3088.
— Andy Silverman for Peoples' Self-Help Housing.
https://www.noozhawk.com/article/it_grant_gives_peoples_self-help_housing_residents_an_opportunity_to_connec