In the News
Food drive benefits 50 locals in need (so far)
Posted on 04/09/2017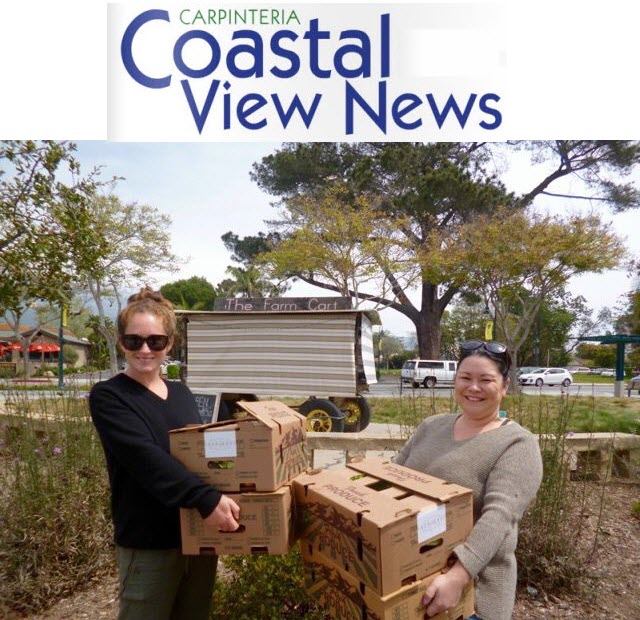 Food drive benefits 50 locals in need (so far)
From left, Katherine Lesh of The Farm Cart, and People's Self-Help Housing social worker Jackie Meissner load up for first delivery of organic fresh produce from Indivisible Carpinteria and the Farm Cart to needy families in town.
Yesterday marked first delivery from a food drive coordinated by Indivisible Carpinteria and The Farm Cart—an effort that will feed 50 residents of local Peoples Self-Help Housing complexes. For the last couple weeks, Carpinterians have donated cash and food items toward the effort to ensure that those in need are well fed, particularly immigrants who are fearful to shop in public or register for Food Stamps given the federal government's ramped up deportation efforts.
"Most of our families don't have the privilege of eating organic fruit and produce so you can only imagine the smiles on their faces when they opened the boxes and realized they could go home and make pico de gallo or salsa out of the cilantro, tomatoes, onion and avocados provided," reported Jackie Meissner of People's Self-Help Housing. "The food boxes and other non-perishables were able to help five farmworker families, seven low-income families and four single moms with at least two children in each household."
Donations are collected at The Farm Cart, 5103 Carpinteria Ave., which provides its produce for the drive at cost. Additionally, beans, rice, other healthy dried goods and non-perishables can be dropped off at the cart. Food vouchers are also being purchased from local shops for things like meats and dairy. For more information, contact IndivisibileCarpinteria@gmail.com.
http://www.coastalview.com/news/food-drive-benefits-locals-in-need-so-far/article_13a43154-1be6-11e7-8058-b7ad9055600e.html