In the News
Union Bank Gives $10,000 to Peoples' Self-Help Housing - Noozhawk
Posted on 11/02/2016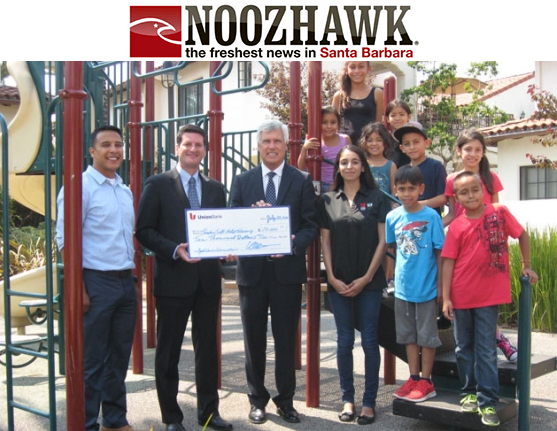 Union Bank Gives $10,000 to Peoples' Self-Help Housing
Grant targeted for youth education program
Vince Caballero, Union Bank managing director, left of check, presents $10,000 to John Fowler, Peoples' Self-Help Housing president/CEO, along with students and educators from PSHH's Youth Education Enhancement Program. (People's Self-Help Housing)
Peoples' Self-Help Housing (PSHH) announced it has been awarded a $10,000 grant from Union Bank in support of the nonprofit's Youth Education Enhancement Program (YEEP), focusing on improving the literacy, English and math skills of student residents.
Union Bank strives to foster social sustainability across the communities it serves, specifically investing in affordable housing and community economic development.
This gift will support PSHH's YEEP program, which offers educational support to K-8th grade students at nine PSHH housing sites, with plans to add four additional centers next year. In 2015, more than 300 youth were able to take advantage of free educational opportunities through this program.
"Our YEEP program gives resident children tools to excel well beyond the boundaries of our affordable housing properties and their years in the classroom," said John Fowler, PSHH CEO/president.
"The knowledge and confidence participating children gain assists them in succeeding throughout their lives. We are so grateful for the support of Union Bank, which recognizes the need and value of continuing program efforts," he said.
Founded in 1970, PSHH is an award winning nonprofit organization that develops affordable housing and community facilities for low-income households and homeownership opportunities for working families and special needs populations, such as seniors, veterans, the disabled, and the formerly homeless.
With nearly 1,200 self-help homes completed and almost 1,700 rental units developed, PSHH is the largest affordable-housing developer on the Central Coast.
For more information, visit www.pshhc.org, emailcommunications@pshhc.org or phone 781-3088.
https://www.noozhawk.com/article/union_bank_gives_10000_to_peoples_self_help_housing