In the News
After 2 years of work, Atascadero family settles into new home - The Tribune
Posted on 12/23/2014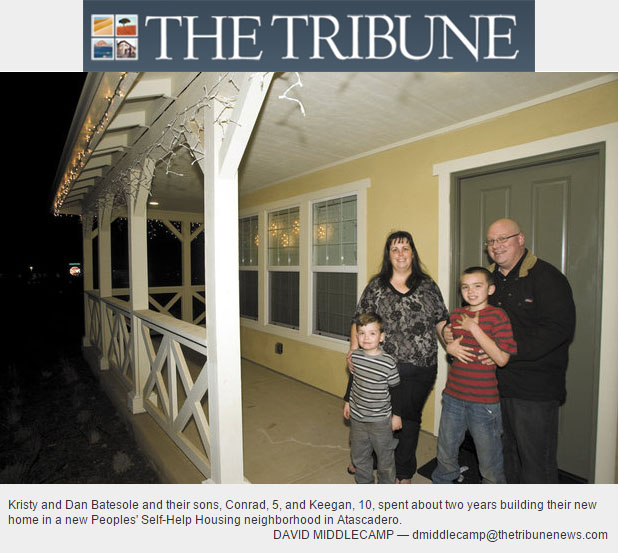 The Batesoles are 1 of 12 families who just got keys to houses they helped build
BY TONYA STRICKLAND
tstrickland@thetribunenews.comDecember 23, 2014
This holiday season, Kristy Batesole is grateful.
"I still walk through here, and I can't believe it," she said of her family's new Atascadero home, complete with a Christmas tree decorated with her sons' handmade Christmas ornaments proudly staged by the window. "I can't believe that it's done — and it's ours."
Batesole and her husband, Dan, are one of 12 families who spent about two years helping to build their houses in El Camino Oaks, Peoples' Self-Help Housing's latest neighborhood for those living on limited incomes.
The organization's "sweat equity" program allows qualifying participants to take part in the construction of their homes so they can forgo a down payment. Families must apply for the program, and they typically earn $34,000 to $55,000 annually, depending on the family's size, to qualify.
On Dec. 4, those 12 families received their keys.
For the Batesole family, a couple with two young sons, it's the first time they've owned a house — something they say means everything.
"
Now that we're here, we're just really relieved," Kristy Batesole said. "This is our first house, and we're so grateful to finally have some stability and have a place for the kids to grow up."
Their modestly sized house has three bedrooms, two bathrooms and a large front porch.
Batesole, 32, was born and raised in Atascadero. Her family lived in Las Vegas for a few years but moved back in 2011 when her husband's office closed.
She worked a slew of retail jobs while raising her boys before becoming a caregiver through a state program for her 10-year-old son, Keegan, who has autism.
Her husband, 32, processes payments for Sunrun Inc., a solar company in San Luis Obispo.
On a recent afternoon, when their youngest son, 5-year-old Conrad, went to wash his face and brush his teeth, Kristy Batesole commented on how nice it is for the boys to have their own bathroom.
"I think it's nicer for Mom and Dad," she joked. "We were all sharing a bathroom before. It's just the little things you take for granted — you don't realize how much they mean until you don't have them."
Something as simple as having separate bathrooms may seem small to some families, she added, but it's those smaller things that all make up the bigger picture for her family — the uncertainty of where they'll end up next is over.
"When you're renting, it feels like you have your life on hold," she said. "That's just how it's always felt to me."
They also know their neighbors well — as they've spent the past two years working side by side with them 10 hours a day every weekend and, near the end, on weekdays.
While the organization contracts out for technical services such as plumbing and electrical work, a supervisor teaches the families how to frame the structures, work on the foundation and finish the interiors.
Among their many tasks, the couple laid the laminate flooring together, and Kristy Batesole placed the tile floors.
"I came in knowing nothing. I didn't even know how to swing a hammer," she said. "But it's really been good for us. It's improved our work ethic and patience even. My attention to detail has improved. I've learned about rebar, and how to tie steel."
Peoples' Self-Help Housing has spearheaded the construction of similar neighborhoods throughout San Luis Obispo County. At El Camino Oaks, 24 three-and four-bedroom homes have been developed in two phases at El Camino Real and Atalaya Street in the northeast end of town.
Families broke ground on the first batch of homes in July 2012, wrapping up this past April.
The second phase of homes, the one that the Batesoles took part in, started in January 2013 and ended this month.
The U.S. Department of Agriculture provided construction and mortgage loans for the houses originally valued at $240,000 to $260,000, according to the Peoples' Self-Help organization.
Read more here: http://www.sanluisobispo.com/2014/12/23/3412693_batesole-family-new-home-atascadero.html?sp=/99/100/&rh=1#storylink=cpy