In the News
Wells Fargo Bank Opens on Milpas St. in an 'Underserved' Area - KEYT
Posted on 12/15/2014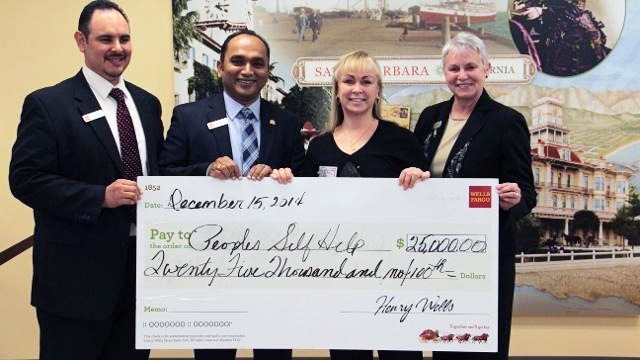 Only two banks are on the busy street
John Palminteri, KEYT - KCOY - KKFX Senior Reporter
SANTA BARBARA, Calif. -
Wells Fargo Bank has opened a new Santa Barbara branch in what has been described as an "underserved" area of the city for financial institutions.
This is now only the second bank within a short distance for Eastside residents, many who walk to work and regional transportation.
"We'll do everything from investments to mortgage to business services, consumer services, financial literacy. I think convenience is also a huge factor here as well," said manager Raul Lorca.
Milpas Community Association member Bea Molina called the bank's opening "uplifting." She spoke of recent improvements in the area, "that we haven't seen before."
At the ribbon cutting event, Wells Fargo also gave out a total of $55,000. to three nonprofit organizations - The Foodbank of Santa Barbara County, the Unity Shoppe, and People's Self Help Housing.
Regional President Joe Mathai says the bank is expecting to serve both individual accounts and regional businesses. Philanthropy and community involvement will also be part of the services. It will include outreach to the local schools to help students with financial planning.
Lorca says many of the young people, "help their parents with banking."
The bank is staffed by employees who transferred from other branches, creating about 15 new positions available in the Santa Barbara and Goleta areas.
http://www.keyt.com/news/wells-fargo-opens-on-milpas-st-in-an-underserved-area/30246074