In the News
Formerly homeless veteran enjoys new home - KSBY
Posted on 11/11/2014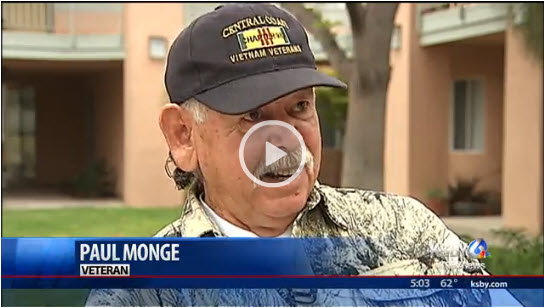 This Veterans Day will be a special one for a local vet.
Paul Monge is a 61-year-old Vietnam veteran who has a roof over his head for the first time in ten years. He says he spent the past decade living in his car.
"It's just night and day. You guys wouldn't understand," he said about being homeless. "You'd have to be out on the street at least for a couple weeks, let's say. You'd get a taste, but not the real thing, especially weather. The weather is a lot to deal with out there."
He said his new home is "...better. Way better. Warmer, cleaner. You get to eat hot meals. You don't have to eat out of a cold can, just a number of things."
Thanks in part to People's Self-Help Housing, Monge moved in to a senior housing development in Arroyo Grande back in June.
http://www.ksby.com/news/formerly-homeless-veteran-enjoys-new-home/