2016
Peoples' Self-Help Housing Thanks its Partners with Central Coast Events
Posted on 11/03/2016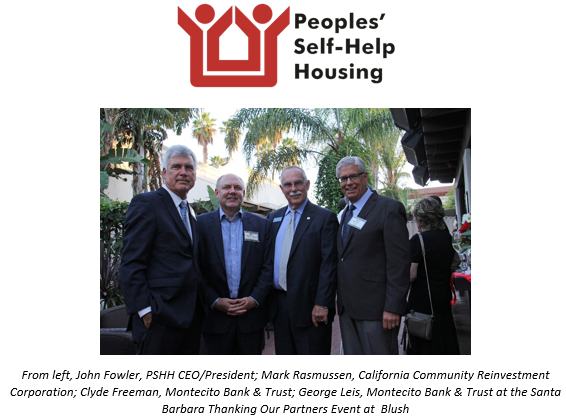 Central Coast, Calif. Nov. 3, 2016 – Peoples' Self-Help Housing hosted two cocktail events, "Thanking Our Partners," for its major community supporters in October.
The events were held at Ventana Grill in Pismo Beach and Blush in Santa Barbara – Oct. 7 and 21, respectively – to recognize major donors, community partners and local officials who have assisted PSHH in their mission to provide affordable housing and programs leading to self-sufficiency for low-income families, seniors and other special needs groups on California's Central Coast.
Each ceremony featured testimonials from residents and program participants about how safe, affordable housing, along with social and educational resources, provided on-site by PSHH, has changed their lives.
Over 50 guests attended at each location and enjoyed live music, a hosted bar and appetizers.
About PSHH
Founded in 1970, PSHH is an award-winning nonprofit organization that develops affordable housing and community facilities for low-income households and homeownership opportunities for working families and special needs populations, such as seniors, veterans, the disabled, and the formerly homeless. With nearly 1,200 self-help homes completed and almost 1,700 rental units developed, PSHH is the largest affordable housing developer on the Central Coast, with offices in San Luis Obispo and Santa Barbara. For more information on Peoples' Self-Help Housing, visit www.pshhc.org, email communications@pshhc.org or phone (805) 781-3088.